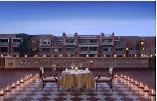 Club ITC Culinaire Membership
Feel indulged, be spoilt for choice and embrace a life that opens a world of infinite experiences. With extraordinary culinary discoveries across a wide choice of cuisines at over 150 restaurants, invigorating luxury stays at over 75 Hotels, Club ITC Culinare has been especially designed to cater to your fine culinary palate and provide experiences that complement your distinguished taste and lifestyle.
Redeem 14,160 Club ITC Green Points for an annual Club ITC Culinaire membership.